By: Gil Bleich
Background
Preparing a regulatory submission for a vaccine or a drug takes as much as 5 to 8 months. Clinical data validation of SAS outputs is a time-consuming, complex and heavily manual part of the process. All documents and tables within a submission need to be validated and support the right conclusion regarding dosage, efficacy and safety for which they will be examined by a zero-tolerance regulator. In cases of data inconsistencies, duplications or anomalies, within or across tables quality control reruns are needed. But if they are missed, then regulators are very likely to initiate queries. Either scenario can result in missing the very strict timelines for regulatory submission impacting the timeline for drug or vaccine approval. As a result, a lot of resources and money are allocated in the industry to address regulatory requirements.
Today, the SAS output validation process is completed manually by a biometrics team, generally including biostatisticians and statistical programmers.
Verify by Beaconcure
Verify by Beaconcure is an automated analytics platform driven by AI, created specifically to support the life science industry. Verify converts clinical data in any format and layout into a semantic and dynamic database to which any required cross checking or analysis can be applied. All errors and anomalies can be detected with 99.9% accuracy within hours instead of days and weeks.
The challenges overcome in developing Verify were:
SAS outputs have different kinds of layouts and formats, such as HTML, RTF and PDF. There are different standards for creating output at different companies and sometimes even within the same company, making manual validation of these diverse sources very difficult.
Tables are created and laid out for the human eye. They cannot be easily converted into an automated data structure.
It is difficult to automatically understand a table's structure and meaning.
Given these challenges, Verify was developed to improve efficiency while maintaining the highest standards of data validation.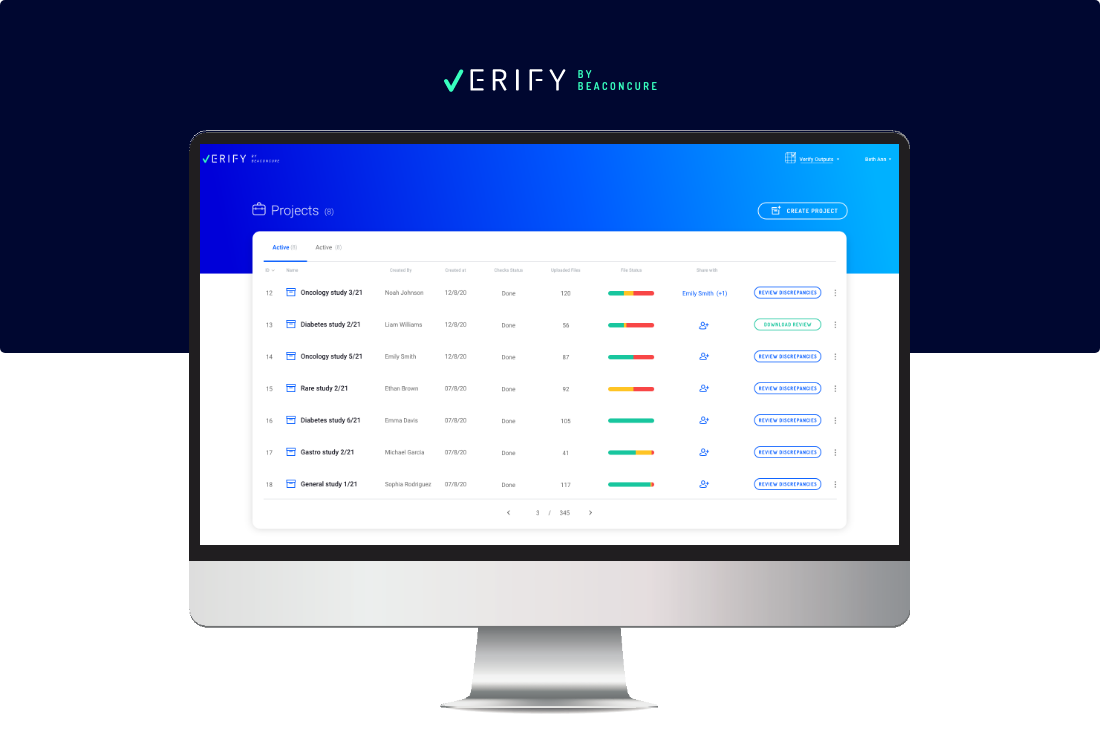 How does the technology work?
Verify supports manual validation tasks using Machine Learning and NLP algorithms. Validations can be performed within a table or across multiple tables, with the aim of ensuring consistency of information throughout the study.
Verify parses the textual tables and identifies each cell as a column header, a row header or a value. Using cell information and contextual data like the table name, the footnotes, the nature of the study and more, the system understands the table structure and performs the correct validations.
List of formats Verify supports
TXT, RPT, HTML, RTF, PDF, Docx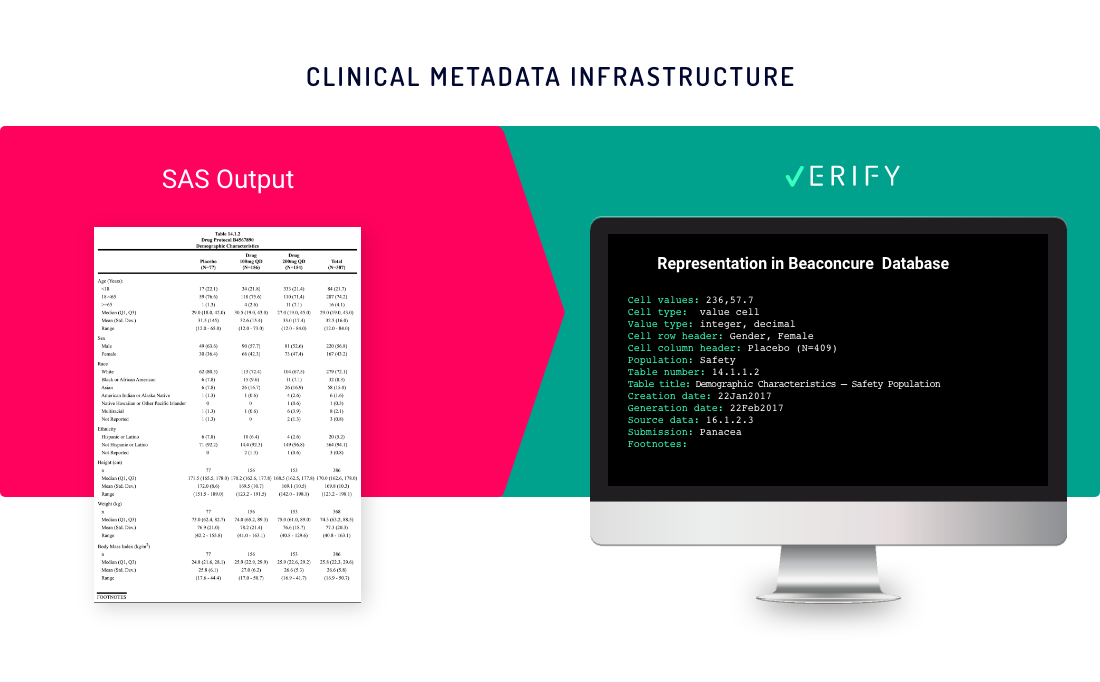 Setting up the system
Before starting to use the Verify system, the relevant team provides Beaconcure with a list of required validation checks which are reviewed against our best practices. This happens only once when the system is configured to meet the customer's needs. Afterwards, with the checks embedded in the system, the user can initiate the process for performing any of the predefined checks, whenever needed, at the click of a button.
What types of data checks can be performed?
Verify can validate any type of data within any therapeutic area. The system supports a large number of validation checks, divided to three main segments:
Cross-table
In-table
Footnotes and table layout
Here are some examples of checks performed by Verify: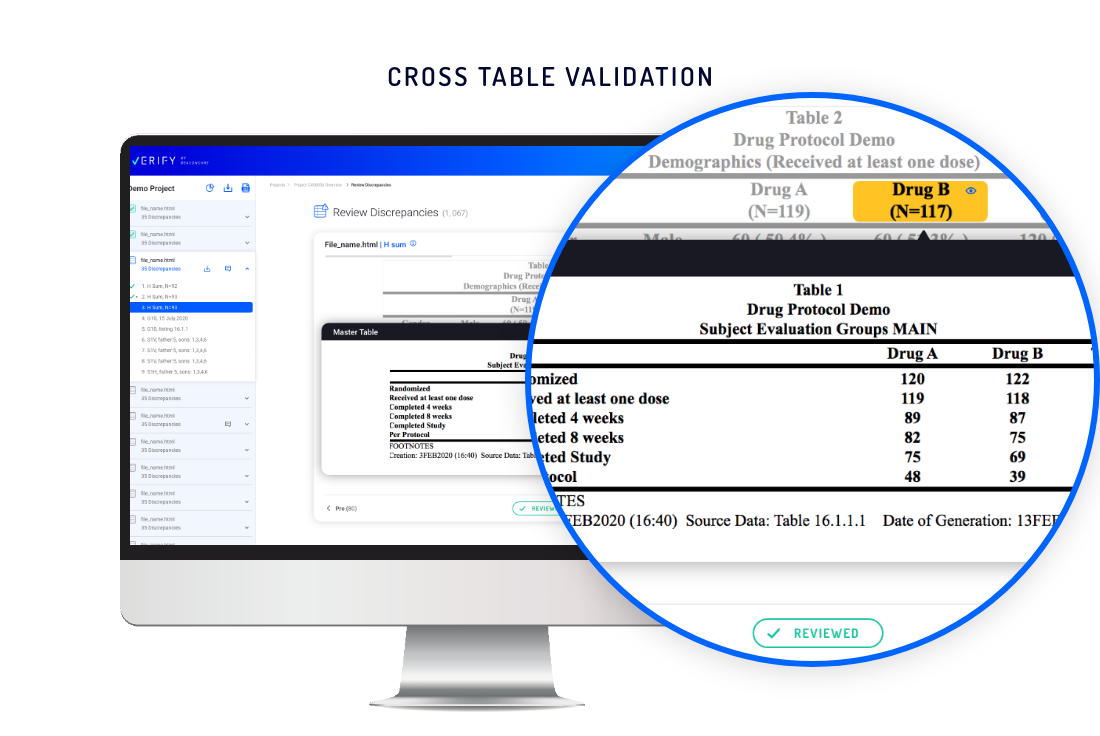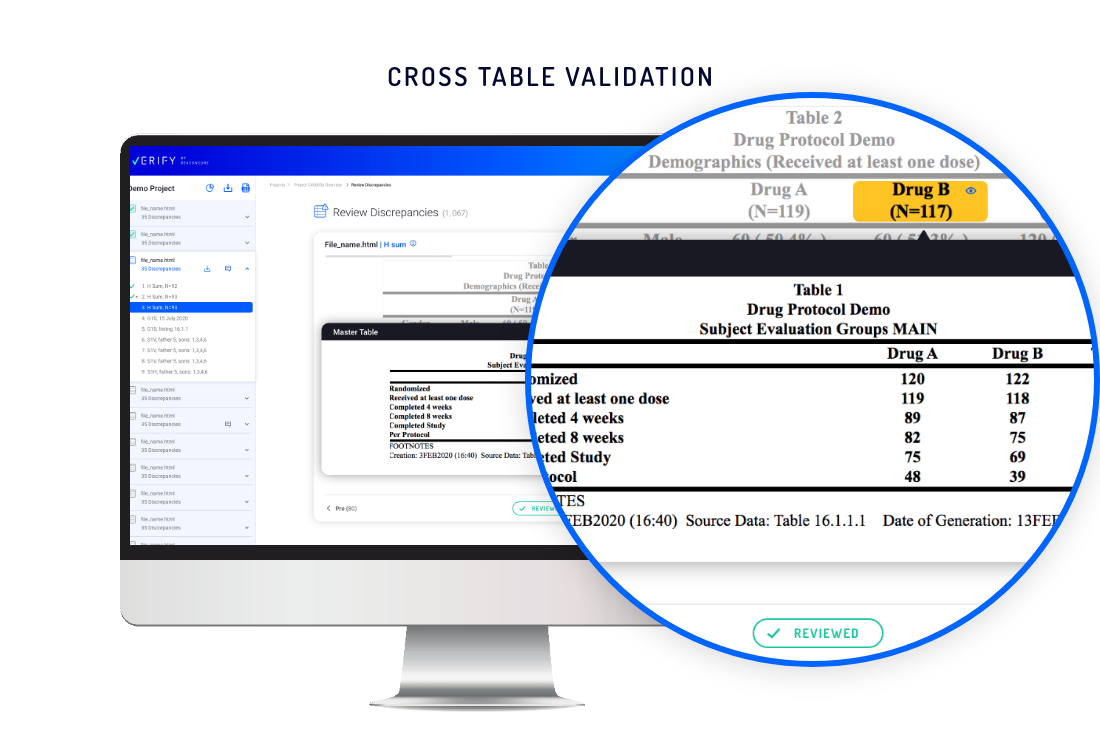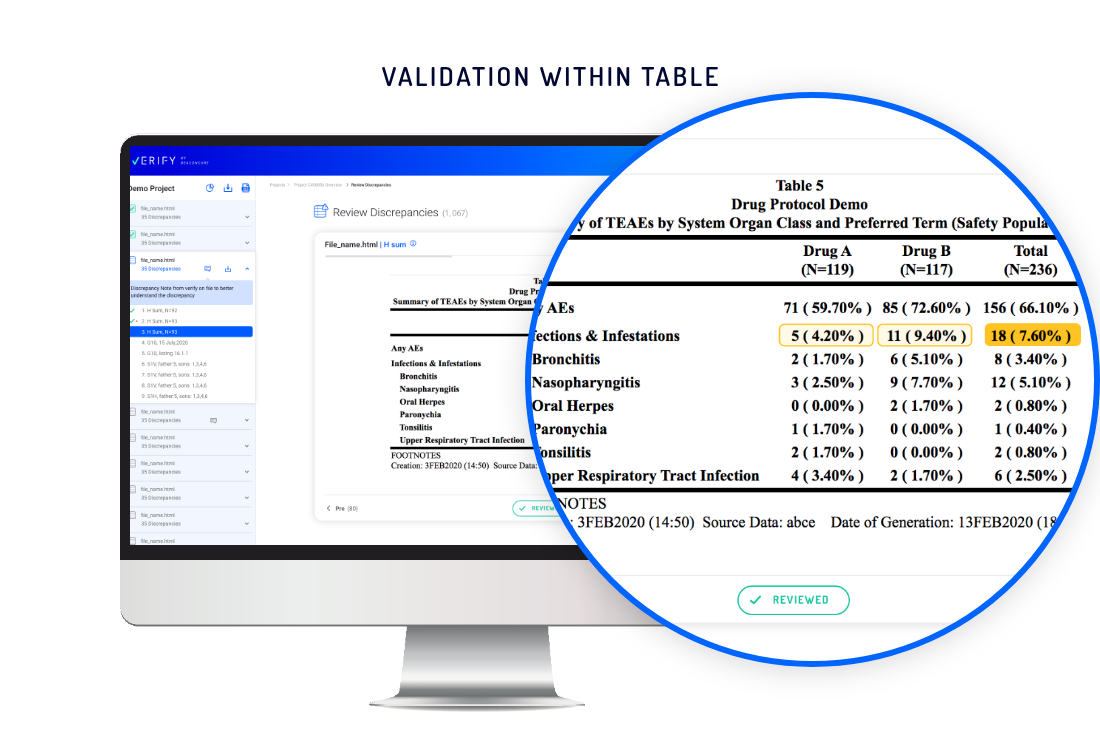 The performance of Verify
99% of data discrepancies will be flagged.
100% of data duplication will be flagged.
100% of data failures will be flagged.
The power of automation: Verify by Beaconcure
Clinical data analytics takes a leap forward with Verify. Improved data accuracy and integrity reduces the risk of data discrepancies appearing in regulatory submission, while AI-driven automation streamlines quality assurance and eliminates human error.
The result is a significantly faster, high quality, efficient regulatory submission process at a lower overall cost, and accelerates time to market.